TONY MOLY
Tako Pore One Shot Nose Pack 1.5g * 5ea
Octopus-shaped nose pack that is tightly adsorbed and neatly extracted from large areas from the liver to the nose.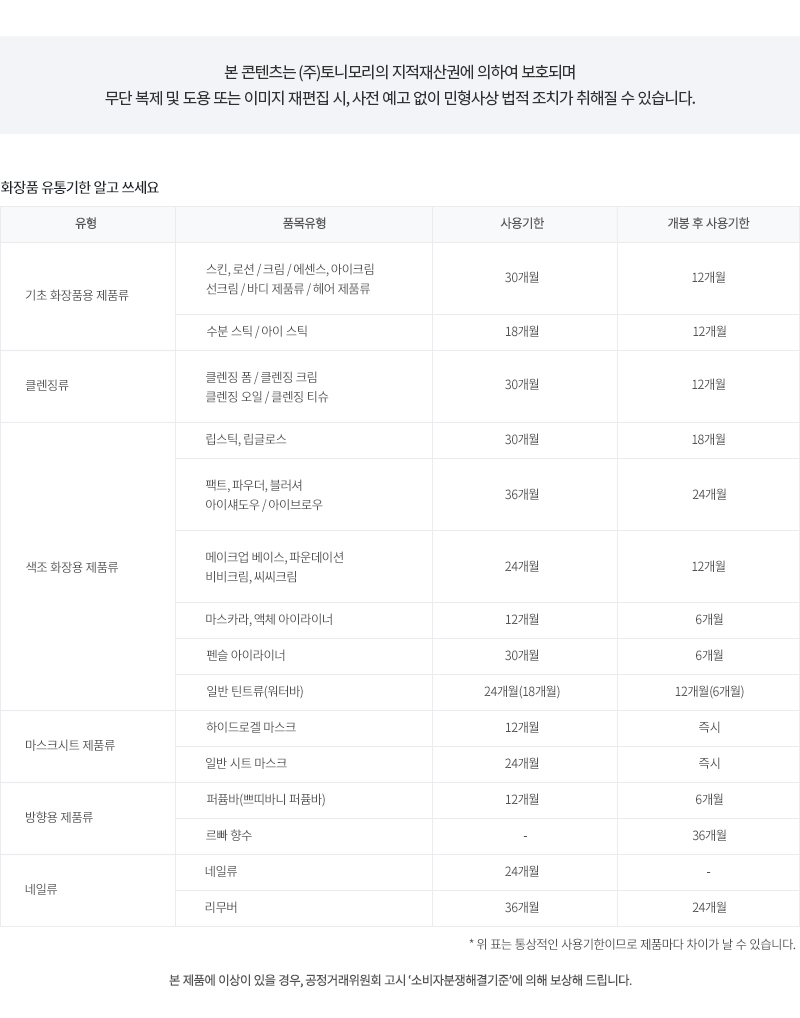 How To Use
1. After washing the face, apply enough water around the liver and nose, remove the transparent film from the nose pack with dry hands, and attach the smooth surface to the eye liver and nose shape. (You can attach it easily by putting it on the nose end-cott ball-cott back and forth.)
2. After about 10 to 15 minutes, slowly remove the seat from the edge when it is completely dry.
Ingredient
FV, Purified Water, Glycerin, PG-12 Dimethicone, Kaolin, Butylene Glycol, V / B-Polypolymer, Titanium Dioxide, Taurine, Seasilt Extract, Sea Salt, Seawater, Peat Water, Hydrolyzed Collagen, Evening Primrose Extract, Root Extract, Giant King Leaf Extract, Elm Root Extract, Bamboo Water, Birch Sap, Jasmine Flower Water, Damask Rose Flower Water, Green Tea Extract, Wine Extract, Ethylhexylglycerine, Phenoxyethanol.
Precautions for Use
1. Wash immediately when in snow.
2. Do not use in areas of injury, eczema, or dermatitis.
3. If the following abnormalities occur using cosmetics, stop using them and consult a dermatologist, etc. as the symptoms
A. In case of red spots, swelling, itching, irritation, etc. during use.
B. In case of abnormalities in the area of application by direct sunlight.
4. Precautions for storage and handling
A. Be sure to close the cap after use.
B. Keep it out of reach of infants and children
C. Do not store in hot or cold places or in direct sunlight





Volume : 1.5g * 5ea
Payment Policy
We accept Paypal Payment and Credit Card (Visa, MasterCard, Discover, American Express)
1) This payment method is provided by Eximbay and is billed as
www.eximbay.com
.
2) Note: Please note that the billing descriptor will be listed as EXIMBAY.COM.
Cancel Policy
You can cancel your order within 12 hours after placing an order. After that, once your order is processed or shipped, NO changes can be made.
Return Policy
We accept returns if the product you received is incorrect, damaged or defective You can return it within 15 days after receiving the package. Return products must be unused and in its original unbroken seal or box, and must be accompanied by its original receipt. Customer will be responsible for the shipping charges unless the return was a result of our mistake.
Refund Policy
If the product is damaged during shipping transit please send us an email with your order, full name and images of the damaged product! We'll be happy to investigate the cases and make replacement or refund. We will complete your refund within 1 week upon receiving your return products.
Shipping and Delivery
All orders are processed within 72 hours of payment receipt. We ship your order via Korea Post EMS. Shipping cost is calculated by weight and differs depending on the shipping method and destination country. All products are shipped out from South Korea. For all international countries, estimated delivery time depends on destination country. Tracking No. is available on Korea Post Website.
Please be aware that in some cases you might be asked to pay taxes or import duty. Any taxes or duty levied at destination country will need to be paid by the customer. We are not responsible for packages refused by customs, despite of any reason including denial to pay tax, banned import items and any other customs related issues.